Air cooled Condensing Unit

Capillary expansion

Range 1/5 HP > 1 1/4HP

Refrigerant R290

Hermetic compressor

One fan

Cu filter

Braze connection
MTH, leader in the production and commercialization of systems and components for commercial refrigeration, presents the new range of R290 condensing units.
Eco-friendly and high efficiency, they represent the result of MTH's strong commitment to innovation and development of solutions with reduced environmental impact, respecting all international standards.
The welding condensing units, equipped with capillary and high efficiency hermetic compressor, are available for medium/high and low temperatures.
The latest generation electronic motors ensure relevant energy savings; the condensers with Ø 7 mm tube optimize the charge of refrigerant gas required.
In order to best meet its Clients' needs, MTH develops customized projects based on OEMs specifications upon request.
Options:
New 3S valve with three safety levels
Tropicalized range for temperatures up to +43⁰C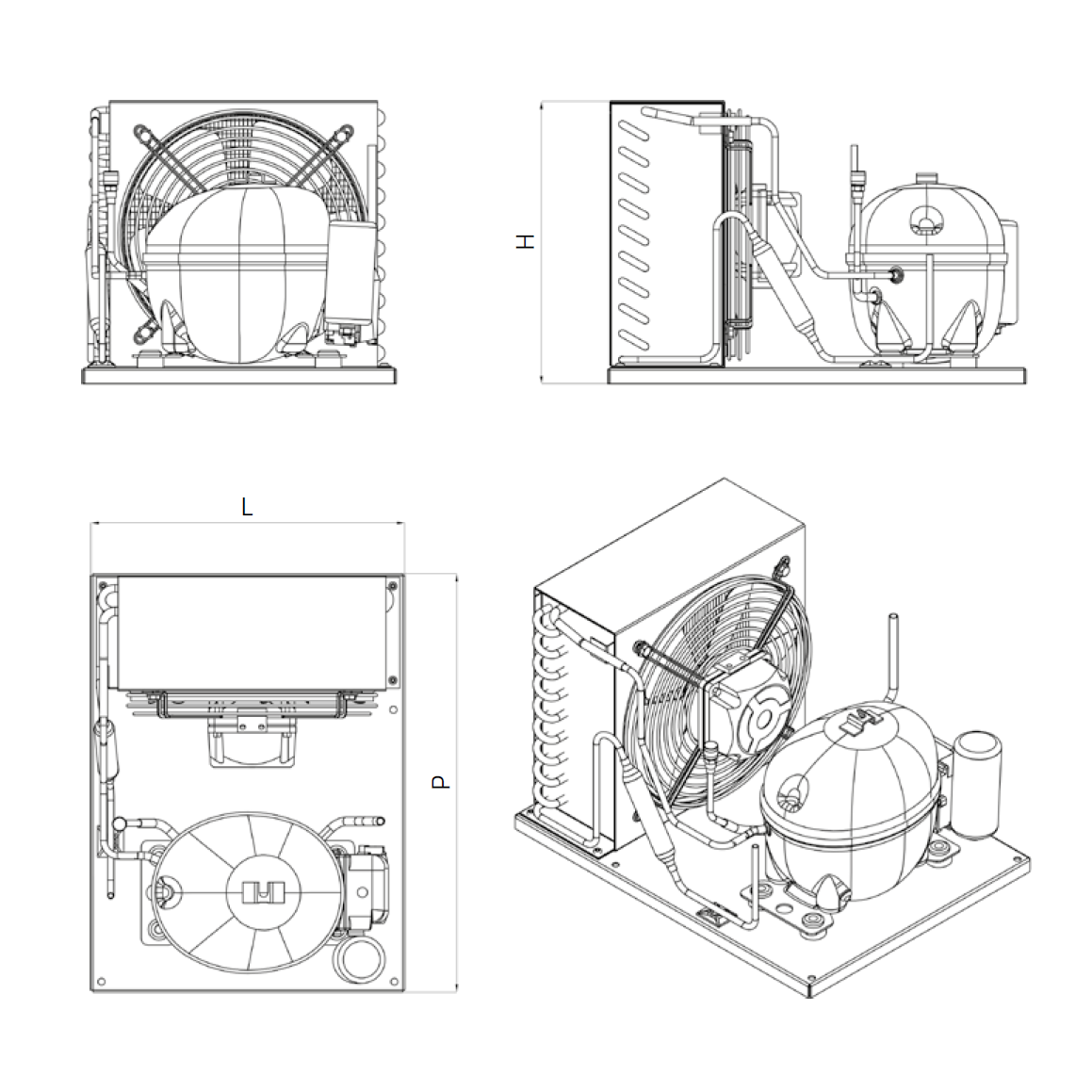 1 fan - 1 phase
Code
Model
Compressor
Power
(HP)
Cooling capacity (watt)
Connections
Dimensions (mm)
-10
-5
-0
7
IN
OUT
P
L
H
U70000340
UCSHU 20 A sa
EMT6144U
1/5
343
413
501
639
ods - 6
ods - 6
400
300
270
U70000420
UCSHU 25 A sa
EMT6152U
1/4
418
500
596
760
ods - 6
ods - 6
400
300
270
U70000490
UCSHU 28 A sa
EMT6165U
1/4P
485
571
691
881
ods - 6
ods - 6
400
300
270
U70001020
UCSHU 50 A sa
NEK6217U
1/2P
1018
1233
1481
2118
ods - 8
ods - 6
500
400
350
U70001190
UCSHU 75 A sa
NT6220U
3/4
1193
1610
1961
2527
ods - 10
ods - 6
500
400
350
U70000570
UCSHU 33 A sa
NEU6181U
1/3
574
739
893
1141
ods - 8
ods - 6
450
340
300
U70000640
UCSHU 35 A sa
NEK6210U
1/3P
640
850
1025
1312
ods - 8
ods - 6
450
340
300
U70000940
UCSHU 50 A sa
NEU6214U
1/2
940
1133
1361
1726
ods - 8
ods - 6
500
400
350