PRODUCT DESCRIPTION
Sliding door for cold room at a positive temperature (0°C minimum), with patented sliding system "Mirror" model.
For positive temperature
Blade thickness 68mm
Polyurethane density: 40 Kg/m³
USE
Suitable for cold rooms used for the preservation, processing and seasoning of foods at a positive temperature (0°C minimum).
The 480ST doors are mainly used in: plants for the meat processing, cheese factories, deposits for the preservation of fruit and vegetables, slaughters, food warehouses, shops (delicatessen, fish shops, ice cream parlour…), plant for the fish transformation, ice cream industry.
INOX
Blade
Blade edge in stainless steel 304 thickness 15/10 (total thickness 68mm, included the bearing in PVC of the gasket ) folded and welded;
Blade coated with stainless steel 304 sheet thickness 6/10;
Outside handle: fixed side;
Inside handle: plastic deep-set;
EPDM double density gasket on 3 sides;
PVC lower gasket
Standard frame system
Without frame, flush panel;
Flush floor threshold S/3 model (without threshold).
Sliding system
The patented "Mirror" sliding system is totally symmetrical and doesn't need any adjustment to change the opening way, it's made of:
Sliding profile in extruded anodized aluminium, with anti-fall section
Ramps, or falling bends, assuring a perfect contact between the door and the frame they provide the best insulation between the inside and the outside of the cold room. They are assembled on the closing side of the door;
Cover (option), made in extruded anodized aluminium it can be simply opened thanks to the hinges assembled on its top, to realize inspection or cleaning services.
The rear guide is made of:
Lower track made of a "C" aluminium profile fixed below the blade by means of rivets during the finishing.
Blade/frame system
Standard dimensions one blade version
OPZIONI
(the colors are only representative)
The protection can be mounted inside, outside or on both sides Available materials:
Stainless steel
Aluminum
Corrugated aluminum (riveted to the surface)
White polyethylene (riveted to the surface)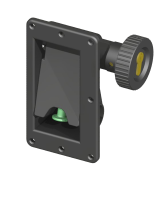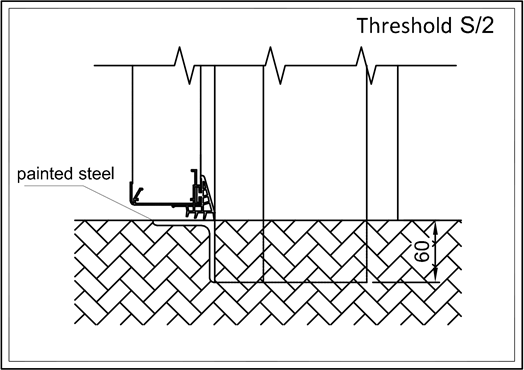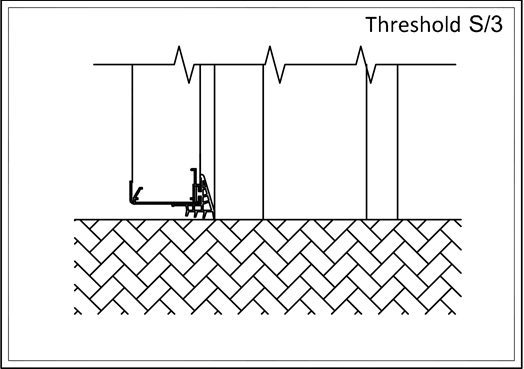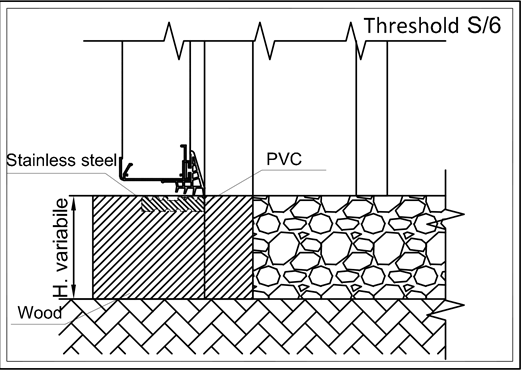 Download
mirror

---